I had a lovely brunch this morning at Halia in the Singapore Botanic Gardens with the author, Margriet Ruurs, and several teacher-librarians who work at various international schools in Singapore. (Unfortunately I didn't take any photos.)
Margriet will be working with students at United World College of South East Asia (both Dover and East campuses) and the Canadian International School (BT and TK campuses) in Singapore this week and will also be doing presentations for parents.
Over brunch, Margriet told us stories about and from her books, such as My Librarian is a Camel.
Margriet filled us in on her upcoming trip to Mongolia and we also learned about Between the Covers, a book-lovers B&B on Salt Spring Island in British Columbia, Canada that she and her family own and run. It sounds and looks fabulous and I hope one day to visit.
In addition to being an author, Margriet is also the editor of KIDSWWWRITE: The e-zine for young authors and readers. I would like to encourage some students to submit their writing to her at some point.
Other books and authors were mentioned over the course of the visit. Here is a partial list:
Reading Magic by Mem Fox (a good book to recommend to parents about reading with their children)
Dying to Meet You by Kate Klise, illustrated by Sarah Klise – first title in a new series that will appeal to young readers (and that I'm now dying to read!)
Pat the Bunny by Dorothy Kunhardt – first published in 1940 and still loved by babies today, including my nephew Grant as seen here in July 2009.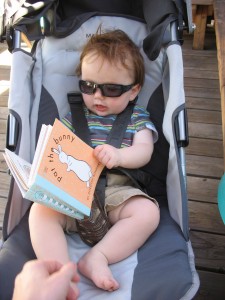 A recent article in the NY Times about a father and daughter who read together daily for 3,218 nights was mentioned.
Last but not least we also discussed the video created by the students and staff at Ococee Middle School in Florida: Gotta Keep Reading
What a fabulous way to spend a Sunday morning!
Two more Margriet Ruurs links:
Margriet Ruurs fan page on Facebook
Margriet Ruurs on Twitter